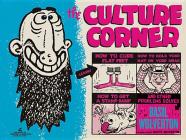 The Culture Corner
A little-seen classic from a giant of the field...and a humorous self-help book to boot!

Saturn Apartments
Hisae Iwaoka is the creator of several one-shot manga, including
Hana Boro (Flower Cookies)
and
Shiroi Kumo (White Clouds)
, both of which were serialized in IKKI magazine. A noted artist and illustrator, her art installations have been displayed internationally in the group show "
Tokyo
Girls Bravo
," curated by Takashi Murakami.
Saturn Apartments
is her most recent series.

Werewolves of Montpellier
Lycanthropy, recreational burglary, and romance in idyllic southern France!
Stepping on Roses
A rags-to-riches romance from the creator of
Tail of the Moon
! Poor Sumi Kitamura… Her irresponsible older brother Eisuke keeps bringing home orphans for her to take care of even though they can barely afford their own basic needs! Just when Sumi's financial problems become dire, wealthy Soichiro Ashida enters her life with a bizarre proposition--he'll provide her with the money she so desperately needs if she agrees to marry him. But can Sumi pull off fooling high society into thinking she's a proper lady? Moreover, is it worth it to give everything up for this sham of a marriage?

Beasts of Burden
Welcome to Burden Hill-a picturesque little town adorned with white picket fences and green, green grass, home to a unique team of paranormal investigators. Beneath this shiny exterior, Burden Hill harbors dark and sinister secrets, and it's up to a heroic gang of dogs-and one cat-to protect the town from the evil forces at work. These are the Beasts of Burden Hill-Pugs, Ace, Jack, Whitey, Red and the Orphan-whose early experiences with the paranormal (including a haunted doghouse, a witches' coven, and a pack of canine zombies) have led them to become members of the Wise Dog Society, official animal agents sworn to protect their town from evil. This turns out to be no easy task, as they soon encounter demonic cannibal frogs, tortured spirits, a secret rat society, and a bizarre and deadly resurrection in the Burden Hill cemetery-events which lead to fear and heartbreak as our four-legged heroes discover that the evil within Burden Hill is growing and on the move. Can our heroes overcome these supernatural menaces? Can evil be bested by a paranormal team that doesn't have hands? And even more importantly, will Pugs ever shut the hell up?