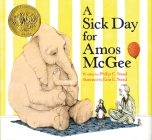 A Sick Day for Amos McGee
The best sick day ever and the animals in the zoo feature in this striking picture book debut. Friends come in all sorts of shapes and sizes. In Amos McGee's case, all sorts of species, too! Every day he spends a little bit of time with each of his friends at the zoo, running races with the tortoise, keeping the shy penguin company, and even reading bedtime stories to the owl. But when Amos is too sick to make it to the zoo, his animal friends decide it's time they returned the favor.

Bridget's Beret
Bridget loves to draw, and she likes to wear a beret for inspiration. So when her beloved hat blows away, Bridget searches for it high and low. She files a Missing Beret Report. She even considers other hats, but none of them feel quite right. It's no use; without her beret, Bridget can't seem to draw. How will she overcome her artist's block?
Make sure to check out Bridget's notebook scribbles at the end of the book for her thoughts and facts on art!

Chester's Masterpiece
Chester's finally ready to write his own masterpiece -- he just needs to get pesky writer-illustrator Melanie Watt out of the way. Chester's solo attempts at storytelling are messy, to say the least, but he's determined to go it alone. But where's his story going? After several alternative (but always unhappy) endings, Chester is confronted by a problem he never bargained for. A wry comment on the creative process and how good stories are constructed, this is the most uproarious Chester book yet.

Chicken Big
On a teeny little farm, in an itty-bitty coop, a very small hen laid a big, giant egg. And out of this egg came one big, humongous . . . something. "It's big!" clucked the little rooster. "It's enormous!" clucked the small chicken. "It's an elephant!" peeped the smallest chicken. "Run for your lives!" they cried. No matter how they try, these clueless chickens can't make sense of the gigantic new member of their family until he saves the day. With wacky, laugh-out- loud humor and silliness to spare, this BIG twist on the classic
Chicken Little
story lends a whole new perspective to what it means to be chicken.

Flora's Very Windy Day
When Flora and her pesky little brother, Crispin, are whisked away by a swirling and swooping wind, she gets the opportunity of a lifetime: the chance to give her brother away. With tempting offers from a dragonfly, the man in the moon, and even the wind itself, she will find it difficult to choose. But Flora would do anything to get rid of Crispin, wouldn't she? Jeanne Birdsall's utterly charming picture book debut takes flight in Matt Phelan's twisting, twirling watercolors, brimming with wit and whimsy.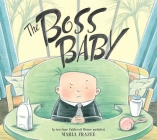 The Boss Baby
From the moment the baby arrived, it was obvious that he was the boss.
The boss baby is used to getting his way--drinks made to order 24/7, his private jet plane, and meetings around the clock. But when his demands aren't getting proper responses, he has to go to new lengths to achieve the attention he deserves.
Marla Frazee brings her signature wit and humor--along with adorable illustrations--to a book that explores the effect of one family's very unusual new arrival.