This Is NPR
"Always put the listener first" has been NPR's mantra since its inception in 1970. Now celebrating its 40th anniversary, NPR's programming attracts over 27 million listeners every week. This beautifully designed volume chronicles NPR's storied history, featuring dozens of behind-the-scenes photos, essays and original reporting by a who's who of NPR staff and correspondents, transcripts of memorable interviews, and an audio CD of the most memorable programming throughout the decades. Beyond an entertaining and inspiring tribute to NPR's remarkable history, this book is an intimate look at the news and stories that have shaped our world, from the people who were on the ground and on the air. With contributions from Steve Inskeep, Neal Conan, Robert Siegel, Nina Totenberg, Linda Wertheimer, Scott Simon, Melissa Block, P.J. O'Rourke, David Sedaris, Sylvia Poggioli, Paula Poundstone, and many more, this is the perfect book for any NPR supporter, fan, or devotee.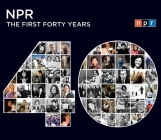 NPR:The First 40 Years
NPR was created in 1970, three years after Congress passed the Public Broadcasting Act and established the Corporation for Public Broadcasting. Signing the act into law, President Lyndon B. Johnson said, "We in America have an appetite for excellence . . . we want most of all to enrich man's spirit." Today NPR produces and distributes programming that reaches more than 26 million listeners weekly. More than 900 stations nationwide broadcast NPR programming. From the turmoil of the Vietnam era to a delightful visit with the riotously funny Dame Edna Everage, join hosts Susan Stamberg (1970s), Noah Adams (1980s), Renee Montagne (1990s), and Guy Raz (2000s) for an unforgettable journey through the first forty years of NPR. This commemorative collection overflows with thought-provoking commentaries, award-winning journalism and humor from the public radio programs that have become an essential part of our lives: "All Things Considered," "Morning Edition," "Weekend Edition," "Tell Me More," "Fresh Air" and much more.
FEATURING:
Aziz Ansari, David Sedaris, Chris Rock, Dame Edna, Terry Gross, Little Richard, Red Barber, Ira Glass, Car Talk's Tom and Ray Magliozzi, and many more.

Word of Mouth
Starting in 1995, NPR's
All Things Considered
began presenting poets reading their own works. Introduced by "poetry DJ" Catherine Bowman, these popular short segments allowed listeners to experience poetry as a kind of verbal music, recalling its roots as a spoken art form.
Word of Mouth
, edited by Bowman, brings together the poems that have been featured on NPR, providing a window onto the dynamic contemporary poetry scene. A child playing with flashes of sunlight in the aisle of an airplane; a woman describing tropical fruit to someone in a faraway country; a man building a deck with his dead father's hammer; the musings of a Barbie doll participating in a 12-step program: these poems powerfully and lyrically transform the stuff of every day life. A celebration of the poetic voice that includes 33 acclaimed writers, this vibrant anthology proves beyond any doubt that poetry is far more than just words on paper.
Quincy Troupe • Czeslaw Milosz • Campbell McGrath • C.D. Wright • Jack Gilbert • Heather McHugh • David Lehman • Wang Ping • Joseph Brodsky • Paul Beatty • Lorna Dee Cervantes • Paul Muldoon • Lucille Clifton • Naomi Shihab Nye • Richard Blanco • Albert Goldbarth • Carrie Allen McCray • Belle Waring • Russell Edson • Kevin Young • Nuali Di Dhomhnaill • Charles Harper Webb • Denise Duhamel • Yusef Komunyakaa • Hal Sirowitz • Lucia Perillo • Amy Gerstler • Maura Stanton • Marilyn Chin • Philip Booth • Jane Cooper • Diane DiPrima • Elizabeth Spires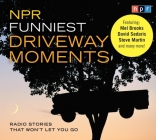 NPR Funniest Driveway Moments
Selected from the National Public Radio archives, these stories by some of NPR's favorite commentators will keep listeners laughing.
A "driveway moment" is when you're so captivated by a story on NPR that you stay in your car to hear it to the end—even if you're sitting in your own driveway. Some are serious, some are touching, and some, like the stories included here, are very, very funny.
Literate, intelligent, and droll, each tale is worth hearing again and again, and now you don't have to stay in your car.
NPR Funniest Driveway Moments includes stories and interviews from your favorite NPR commentators and guests such as David Sedaris, Sarah Silverman, Carl Reiner, Mel Brooks, Dame Edna, Larry David, Darryl Littleton, Justice Stephen Breyer, Jonathan Winters, Phyllis Diller, Steve Martin, Lily Tomlin, and more.