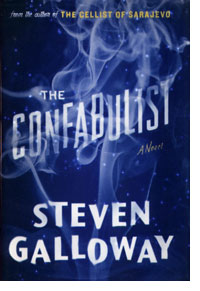 From the author of The Cellist of Sarajevo, an exciting new novel that uses the life and sudden death of Harry Houdini to weave a tale of magic, intrigue, and illusion
.
What is real and what is an illusion? Can you trust your memory to provide an accurate record of what has happened in your life?
The Confabulist
is a clever , entertaining, and suspenseful narrative that weaves together the rise and fall of world-famous Harry Houdini with the surprising story of Martin Strauss, an unknown man whose fate seems forever tied to the magician's in a way that will ultimately startle and amaze. It is at once a vivid portrait of an alluring, late-nineteenth/early-twentieth-century world; a front-row seat to a world-class magic show; and an unexpected love story. In the end, the book is a kind of magic trick in itself: there is much more to Martin than meets the eye.
Historically rich and ingeniously told, this is a novel about magic and memory, truth and illusion, and the ways that love, hope, grief, and imagination can—for better or for worse—alter what we perceive and believe.
"This compelling read by the author of The Cellist of Sarajevo is one that had me from the first pages and wouldn't release its hold until I finished, about 48 hours later, with meal and bathroom breaks and some sleep in between sessions. All the promise you may harbor as a result of having read Cellist will be realized if you should choose, and I recommend you do so, to pick this one up. As much as I hate to use this overused term, it's a page-turner.

Told in the words of a man struggling with memory loss and phantom memories which arrive unbidden and are often not based in fact, this is a study in what's real and what's not. Our visions of the past are like the illusions created by a magician: we see what we want to see, we believe what we want to believe, in one case to ease our souls and in the other to retain our wonder in the world around us of which we understand little, but are reassured when we are told that it's all magic. It's easier that way, and frankly, more fun.

Harry Houdini was a legendary figure in his own time and even now his place in history is assured. The narrative here is based in fact but is admittedly embellished. It's fiction. That doesn't make it untrue, or give it less meaning for us. Many of the figures in the tale are real and we can verify their existence, if not their precise deeds. Houdini himself is, of course, at the heart of it all. A self-proclaimed creator of visual fictions, he became obsessed with exposing the same tricks he used to fool audiences for entertainment when used to convince bereaved survivors of the possibility of contacting departed loved ones.

Add to this the tension and maneuvering before WWI and Houdini's alleged involvement in spying on the European powers, the plots by the spiritualists to curtail his efforts at debunking them and the disturbing revelations of the ubiquity of advice culled from bogus mediums (not media here, for a change) among those in positions of great power and you have a helluva story.

Martin Strauss, the narrator, is a young man at odds with himself and proceeding with his life in a tentative fashion that is unsatisfactory until things get worse. In one night, he loses his life's love, his place in society and his slim confidence in himself. Through his memories we are shown the intrigue, treated to the suspense, and submitted to an ongoing questioning of who we are and what we really mean in the long term. Issues of past, present and future are examined with a gentle touch but also with a firmness that precludes self-delusion, or that is at least the theory.

I think many readers will enjoy this: those who like historical fiction, historical mystery and those who just like a damn good story."