An enchanting and staggeringly original debut novel about one day in the lives of three unforgettable characters
Madeleine Altimari is a smart-mouthed, rebellious nine-year-old who also happens to be an aspiring jazz singer. Still mourning the recent death of her mother, and caring for her grief-stricken father, she doesn't realize that on the eve of Christmas Eve she is about to have the most extraordinary day—and night—of her life. After bravely facing down mean-spirited classmates and rejection at school, Madeleine doggedly searches for Philadelphia's legendary jazz club The Cat's Pajamas, where she's determined to make her on-stage debut. On the same day, her fifth grade teacher Sarina Greene, who's just moved back to Philly after a divorce, is nervously looking forward to a dinner party that will reunite her with an old high school crush, afraid to hope that sparks might fly again. And across town at The Cat's Pajamas, club owner Lorca discovers that his beloved haunt may have to close forever, unless someone can find a way to quickly raise the $30,000 that would save it.
As these three lost souls search for love, music and hope on the snow-covered streets of Philadelphia, together they will discover life's endless possibilities over the course of one magical night. A vivacious, charming and moving debut,
2 A.M. at The Cat's Pajamas
will capture your heart and have you laughing out loud.
Praise for the book:
"A torch song to the power of jazz, determination and serendipity….Bertino's carefully crafted verbal cadence gives Philadelphia a thumping heartbeat that captures the feel of the jazz medium perfectly… Funny and wise, this first novel will leave readers with smiles on their faces and a song in their hearts--something with a little swing to it, naturally."
—Shelf Awareness
"Vibrant...Bertino's characters are spot-on, and her special brand of humor brings each one to life in this fresh and charming tale."
—Booklist
"2 A.M. at The Cat's Pajamas won me over heart and soul. With Madeleine Altimari, a nine year old aspiring jazz singer with a wonderful talent for cursing, Bertino has created one of the most winning and wonderful characters I've met in a long time. Read this book to see a debut author doing something really special, crafting a story where human kindness meets up with an inhospitable world and real magic happens in the aftermath."
– Kevin Wilson,
New York Times
bestselling author of
The Family Fang
"2 A.M. at The Cat's Pajamas is a recipe box full of wonders. With a wildly entertaining cast of characters, Marie-Helene Bertino soars through her native city of Philadelphia, zeroing in with great beauty, wit, skill and love on the exact moments in time that change our lives forever."
—Hannah Tinti, author of
The Good Thief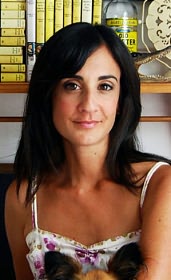 Read an interview with the author HERE.