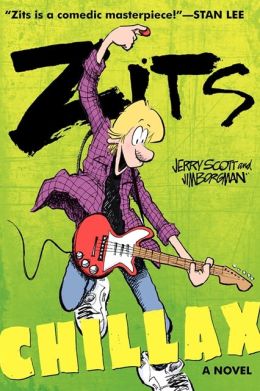 Comic god Stan Lee says Zits is a "comedic masterpiece!" Fans of funny illustrated YA novels such as
Drama
by Raina Telgemeier and
Teen Angst? Naaah…
by Ned Vizzini will definitely want to read
Zits: Chillax
.
In
Zits: Chillax
, Jeremy Duncan, high school sophomore and future rock god, offers up a comedic outlook on teenage life, including school, parents, chores, bands, and friends.
Jeremy and his best friend, Hector Garcia, are planning to achieve a lifelong dream…going to a rock concert! Without parental supervision. But the Gingivitis concert falls on the same night their friend Tim is donating bone marrow for his mom, a cancer patient. Not a problem: Jeremy and Hector are determined to go to the show…for Tim.
Written and illustrated by Jerry Scott and Jim Borgman,
Zits: Chillax
is based on their comic strip,
Zits
. The book features 300 illustrations—including hilarious full-page comics.
Jocelyn
says:
"Zits: Chillax by Jerry Scott is in a league of it's own.
This is the first book I've ever read that I consider a perfect YA beach read for guys, though there's no reason everyone wouldn't love it- from reluctant to speedy readers-it's style and illustrations keep you reading.
All the characters you love in the Zits comic strip are here in their lovable goofiness but even better.
Jeremy's band-mate Tim's mother has been diagnosed with cancer. Instead of dragging the plot down this generates support, positive action and rallying from the whole gang.
Wouldn't it be great if everyone who read this book was motivated to help a sick friend in some caring way?
Now hold that thought- but don't blame me if you laugh out loud as you read along.
Somehow Jerry Scott combines the serious subject of cancer with the humor of well-meaning hormonal teenagers that results in a feel-good book that is better than the sum of its parts.
This book is for all those teens out there that are tired of vampires and dystopian angst- or who just want a break from it."
Every now and then we encounter a new childr

en's

book that we're so excited about we want to broadcast it, so we've created a Kids' TC VIB (very impressive book) for a real stand-out

among

the

many delight

ful

and meaningful new books for young readers.