A beguiling debut novel about the stories we tell ourselves to survive, the scars that never fade and the things we choose to call the truth.
Noa P. Singleton speaks not a word in her own defense throughout a brief trial that ends with a jury finding her guilty of first-degree murder. Ten years later, a woman who will never know middle age, she sits on death row in a maximum security penitentiary, just six months away from her execution date.
Seemingly out of the blue, she is visited by Marlene Dixon, a high-powered Philadelphia attorney who is also the heartbroken mother of the woman Noa was imprisoned for killing. She tells Noa that she has changed her mind about the death penalty and Noa's sentence, and will do everything in her considerable power to convince the governor to commute the sentence to life in prison – if Noa will finally reveal what led her to commit her crime.
Noa and Marlene become inextricably linked through the law, shared sentiments of guilt, and irreversible mistakes in an unapologetic tale of love, anguish, and deception that is as unpredictable as it is magnificently original.
Poignant, irreverent, and hilarious: a memoir about survival and self-discovery, by an indomitable woman who never loses sight of what matters most.
It's the summer of 2005, and Mardi Jo Link's dream of living the simple life has unraveled into debt, heartbreak, and perpetually ragged cuticles. She and her husband of nineteen years have just called it quits, leaving her with serious cash-flow problems and a looming divorce. More broke than ever, Link makes a seemingly impossible resolution: to hang on to her century-old farmhouse in northern Michigan and continue to raise her three boys on well water and wood chopping and dirt. Armed with an unfailing sense of humor and three resolute accomplices, Link confronts blizzards and foxes, learns about Zen divorce and the best way to butcher a hog, dominates a zucchini-growing contest and wins a year's supply of local bread, masters the art of bargain cooking, wrangles rampaging poultry, and withstands any blow to her pride in order to preserve the life she wants.
With an infectious optimism that would put Rebecca of Sunnybrook Farm to shame and a deep appreciation of the natural world, Link tells the story of how, over the course of one long year, she holds on to her sons, saves the farm from foreclosure, and finds her way back to a life of richness and meaning on the land she loves.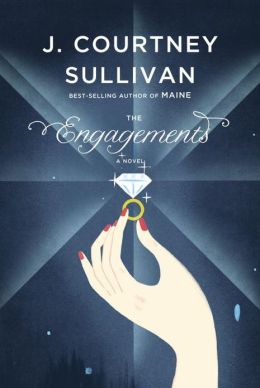 From the
New York Times
best-selling author of
Commencement
and
Maine
comes a gorgeous, sprawling novel about marriage—about those who marry in a white heat of passion, those who marry for partnership and comfort, and those who live together, love each other, and have absolutely no intention of ruining it all with a wedding.
Evelyn has been married to her husband for forty years—forty years since he slipped off her first wedding ring and put his own in its place. Delphine has seen both sides of love—the ecstatic, glorious highs of seduction, and the bitter, spiteful fury that descends when it's over. James, a paramedic who works the night shift, knows his wife's family thinks she could have done better; while Kate, partnered with Dan for a decade, has seen every kind of wedding—beach weddings, backyard weddings, castle weddings—and has vowed never, ever, to have one of her own.
As these lives and marriages unfold in surprising ways, we meet Frances Gerety, a young advertising copywriter in 1947. Frances is working on the De Beers campaign and she needs a signature line, so, one night before bed, she scribbles a phrase on a scrap of paper: "A Diamond Is Forever." And that line changes everything.
A rich, layered, exhilarating novel spanning nearly a hundred years,
The Engagements
captures four wholly unique marriages, while tracing the story of diamonds in America, and the way—for better or for worse—these glittering stones have come to symbolize our deepest hopes for everlasting love.