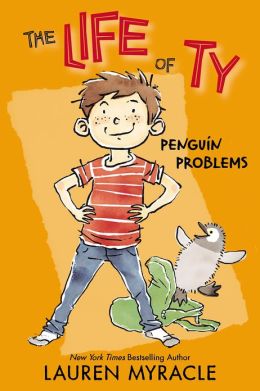 Winnie Perry's sweet baby brother, Ty, is the quintessential dreamer, full of big ideas and wacky plans that only a seven-year-old boy could hatch. Whether it's battling the family cat with a Dustbuster or smuggling a baby penguin out of the aquarium, Ty is always in the middle of a well-intended, big-hearted scheme.
In the spirit of the Judy Moody spinoff Stink series, Ty will work his way into the hearts and funny bones of a whole new generation of Myracle fans.
This highly anticipated sequel to Rodkey's much-praised debut Deadweather and Sunrise is funny, heartfelt, and action-packed. Don't miss it!
After a narrow escape from Deadweather Island, Egg and his slightly deranged partner Guts head for the remote New Lands. They're in search of the lost Okalu tribe, who hold the key to the mysterious treasure map that Egg can't decipher. But the ruthless Roger Pembroke is hard on Egg's trail, and the New Lands are full of new enemies—against which our heroes' only weapons are their brains, their courage...and the two dozen swear words Guts just memorized in the local tongue. They're going to need help. But who can they trust? Is Kira, the beautiful and heavily armed Okalu refugee, their ally…or their enemy? Is Pembroke's daughter Millicent on Egg's side…or her father's? Why on earth is the notorious pirate Burn Healy being so
nice
to them? And the biggest question of all: what shocking secret is Egg about to discover in the shadow of an ancient Okalu temple?
Jennifer is an only child, and so were her parents—at least that's what she thinks, until she finds an old photo in the back of one of her mother's books. The woman in the photo looks just like Jennifer, down to the smattering of freckles across her nose. And her mother refuses to talk about it.
Compelled to find answers, Jennifer embarks on a quest that takes her from the wheat fields of Nebraska to the fishing town of Smithport, Maine, home to the one person who can help her solve this family secret—the woman in the photo. But Jennifer learns that it takes the entire village of Smithport to piece together the story of her mother's hidden past. She needs help from Nathan, the genius with the reluctant smile from across the cove; Little, the elderly town matriarch and former movie star; and The Jacks, three weathered fishermen who dabble in pyrotechnics. As Jennifer discovers the lost chapters of her mother's life, she unwittingly begins to write a few chapters of her own.
Elegantly written,
On Little Wings
is an evocative debut novel about self discovery, first love, and the power of family.
Being Astrid Krieger is absolutely all it's cracked up to be.
She lives in a rocket ship in the backyard of her parents' estate.
She was kicked out of the elite Bristol Academy and she's intent on her own special kind of revenge to whomever betrayed her.
She only loves her grandfather, an incredibly rich politician who makes his money building nuclear warheads.
It's all good until...
"We think you should go to the public school," Dad said.
This was just a horrible, mean thing to say. Just hearing the words "public school" out loud made my mouth taste like urine (which, not coincidentally, is exactly how the public school smells).
Will Astrid finally meet her match in the form of public school? Will she find out who betrayed her and got her expelled from Bristol? Is Noah, the sweet and awkward boy she just met, hiding something?

Find out in this hilarious tragicomedy from New Girl and SNL writer David Iserson!