The latest and most comprehensive baking book yet from best-selling author and "diva of desserts" Rose Levy BeranbaumLegendary baker Rose Levy Beranbaum is back with her most extensive "bible" yet. With all-new recipes for the best cakes, pies, tarts, cookies, candies, pastries, breads, and more, this magnum opus draws from Rose's passion and expertise in every category of baking. As is to be expected from the woman who's been called "the most meticulous cook who ever lived," each sumptuous recipe is truly foolproof--with detail-oriented instructions that eliminate guesswork, "plan-aheads," ingenious tips, and highlights for success. From simple everyday crowd-pleasers (Coffee Crumb Cake Muffins, Gingersnaps, Gooseberry Crisp) to show-stopping stunners (Chocolate Hazelnut Mousse Tart, Mango Bango Cheesecake, White Christmas Peppermint Cake) to bakery-style pastries developed for the home kitchen (the famous French Kouign Amann), every recipe proves that delicious perfection is within reach for any baker.
The eagerly awaited first cookbook from Jessica Merchant, creator of the popular food blog "How Sweet Eats", has now created her first cookbook,
Seriously Delish
. Her playfulness jumps off the page in her inventive and incredibly delicious recipes, such as Amaretto-Butternut Squash Soup with Cinnamon Toast Croutons, Mini Crab Cakes with Sweet Corn and Blueberry Salsa, and Fleur de Sel Caramel Bourbon Brownie Milk Shakes. Her sense of humor, which brings millions of visitors to her site, shows through in chapter titles like "Breakfast (. . . for Dinner?)" and "Salad, Soups, and Vegetable-like Things (Ugh, if We Must)." Merchant makes food that people get excited about, nothing run-of-the-mill or expected. As an added bonus, all of the photographs in the book were taken by Merchant herself, giving her cookbook the personal touch that her fans love and newcomers will appreciate.
Seriously Delish
features imaginative recipes that are tasty and original and bring readers to a place where cooking becomes adventurous and food becomes fun.
Here is a recipe from the book:
Fleur de Sel Caramel Bourbon Brownie Milk Shakes
Serves 2. Time: 15 minutes
A poem: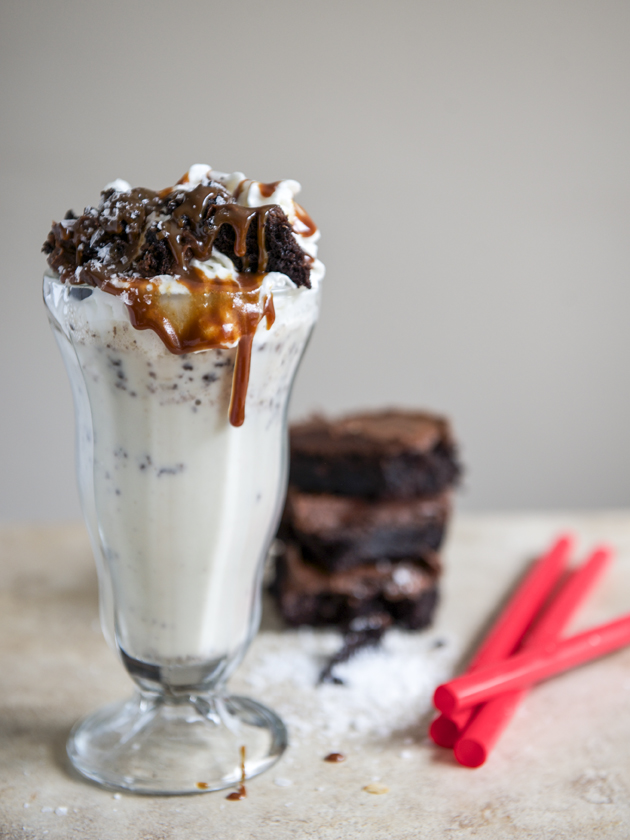 I like bourbon.
I like milk shakes.
I like bourbon milk shakes. The end.
2 cups whole milk
2 cups vanilla bean ice cream
1⁄2 cup bourbon
2 brownies, plus an extra for crumbling on top
1 cup caramel sauce, plus extra for drizzling
1⁄2 teaspoon fleur de sel (or flaked sea salt), plus extra for sprinkling
Whipped cream, for topping
Combine the milk, ice cream, bourbon, brownies, 1⁄2 cup of the caramel sauce, and salt in a blender and puree until smooth. Fill two glasses with 1⁄4 cup of caramel each and pour the shakes into the glasses. Top the shakes with the whipped cream, an extra drizzle of caramel, and another pinch of salt. Crumble a brownie on top.
A "culinary guru" and author of the award-winning
Around My French Table
and
Baking: From My Home to Yours
returns with an exciting collection of simple desserts from French home cooks and chefs
With her groundbreaking bestseller
Around My French Table
, Dorie Greenspan changed the way we view French food. Now, in
Baking Chez Moi
she explores the fascinating world of French desserts, bringing together a charmingly uncomplicated mix of contemporary recipes, including original creations based on traditional and regional specialties, and drawing on seasonal ingredients, market visits, and her travels throughout the country.
Like the surprisingly easy chocolate loaf cake speckled with cubes of dark chocolate that have been melted, salted, and frozen, which she adapted from a French chef's recipe, or the boozy, slow-roasted pineapple, a five-ingredient cinch that she got from her hairdresser, these recipes show the French knack for elegant simplicity. In fact, many are so radically easy that they defy our preconceptions: crackle-topped cream puffs, which are all the rage in Paris; custardy apple squares from Normandy; and an unbaked confection of corn flakes, dried cherries, almonds, and coconut that nearly every French woman knows. Whether it's classic lemon-glazed madeleines, a silky caramel tart, or "Les Whoopie Pies," Dorie puts her own creative spin on each dish, guiding us with the friendly, reassuring directions that have won her legions of ardent fans.