Beloved author Jane Yolen scares up a new rhyming read-aloud about the snarfing, growling, snoring way that monsters go to bed.
Creep, gurgle, crawl, tumble! Meet two young monsters who are far from scary - they're too busy having fun. They go to school, play outside with their friends, and eat after-school snacks. But they also have a bedtime, whether or not they're ready for it! Young children and parents alike will find much to identify with as they follow these lovable little monsters getting ready for bed. With wildly colorful illustrations full of whimsy and warmth, Kelly Murphy brings Jane Yolen's gently rhyming tale to rambunctious life.
Jocelyn
says:
"This cheerful, richly illustrated going-to-bed book has gentle but hilarious illustrations accompanying a simple rhyme which leads little monsters from school through dinner and bath to bed. With a final 'I'm not sleepy' all is quiet and tucked-in in this safe and cozy monster town, with only the nightlights glowing on the last page.
It's brevity will allow for multiple readings, which is handy, since I can imagine it will be asked for again and again by your own little monsters.
Wonderful!"
These guys are so popular, Jane Yolen wrote another book for them!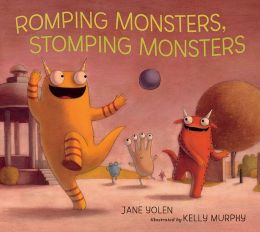 Those little monsters are back — and on the move! Jane Yolen takes her rhymes to the playground, aided by Kelly Murphy's exuberant illustrations.
Stretching, twirling, tumbling, jumping! Welcome to a playground teeming with monsters, bristling with energy, and scaring up ways to have fun. Monsters swing and slide and piggyback ride. Monsters run three-legged races and fall on their faces. Monsters eat monster-sicles and vie for the fountain (
Gulp...Grrrr...Grumble...Growl...All better now!
). In this high-octane sequel to
Creepy Monsters, Sleepy Monsters
, wild and whimsical artwork revs up a read-aloud text that will have little listeners jumping up to join the action.