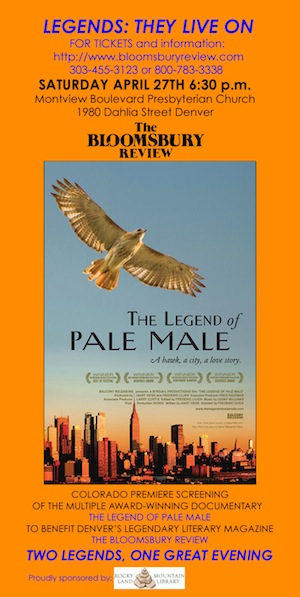 Legends: They Live On
Join us for the Colorado premiere of the award-winning nature documentary
The Legend of Pale Male
—a benefit screening for
The Bloomsbury Review
, a literary treasure that has been celebrating and serving great writing since 1980. Plan to attend this lift-off event as
Bloomsbury
engages a new era … and Pale Male, the famous red-tailed hawk of Central Park, courts his eighth mate (!!!).
Saturday, April 27, 6:30 pm
at Montview Boulevard Presbyterian Church
1980 Dahlia Street, Denver CO
Reception @ 6:30 p.m.
Screening @ 7:15 p.m.
Chat with filmmaker post-screening
Celebrating More Than 34 Years of Publishing
We don't plug the mega-bestsellers. We don't push celebrity biographies or "how-to-get-richer-thinner-smarter-happier books." And we don't hype books or authors that are reviewed in every newspaper and magazine in the country. You hear enough about them already. The Bloomsbury Review is simply lively writing about good reading and great writers.

Thousands of readers across the United States, Canada, and overseas turn to The Bloomsbury Review (TBR) for those hidden publishing gems they know they won't find reviewed elsewhere, as well as for clever, entertaining, and thoughtful critical writing. Discriminating readers are alive and well, and TBR is the source they turn to for discovering a new writer, a work of fiction that isn't on the best-seller list but ought to be, or a nonfiction title that takes them to places, ideas, or decisions that they might not have reached otherwise. TBR reviews the often overlooked books from large, small, independent, nonprofit, and university publishers, as well as new presses beginning to make their mark on the literary scene.
The Bloomsbury Review was founded by Thomas Auer (1953-2003), who launched a review magazine as a newsletter out of a small Denver bookstore in the later 1970s. Tom's dream was a magazine that would focus on those many quality titles lost in the bustle of mainstream buzz and budgets—a place where fine authors and fine books would receive the attention they so richly deserve. The first issue appeared in November 1980. It is now published by his sister, Marilyn Auer, who, with help from the literary community and friends, is carrying Tom's dream and TBR forward into the future.
Thirty-four years later, The Bloomsbury Review continues to be independent, eclectic, and fresh. It has received many awards over the years, including the prestigious Maggie from the Western Publishing Association, the Jack D. Rittenhouse Award for "outstanding contributions to publishing in the West," and the Mountains and Plains Booksellers Association Award for Exceptional Contributions to the Literary Community—among many others. In February 2009, The Bloomsbury Review was the recipient of the Mayor's Award for Excellence in the Arts, which annually recognizes organizations "that have made significant and lasting contributions to the arts in the city and county of Denver."
Select reviewers from around the world—from the United States to Japan to the United Arab Emirates—bring their particular areas of expertise to bear on the pleasure to be found in new books on art, politics, fiction, poetry, film, and on every other conceivable topic that the mainstream review media may have missed. Interviews with established authors as well as those on the rise round out the appeal of TBR, making it a must-read for anyone in the literary know. Gene Luen Yang, Lawrence Ferlinghetti, the Dalai Lama, Alice Walker, Thomas McGuane, Jane Hirshfield, Charles Simic, Barry Lopez, Linda Hogan, Edwidge Danticat, Bill Moyers, Kinky Friedman, Clarissa Pinkola Estés, Ana Castillo, Sherman Alexie, Bebe Moore Campbell, Chris Abani, Isabel Allende, J.P. Donleavy, Robert Bly, Mary Oliver, Walter Mosley, Noam Chomsky, Edward Abbey, and T.C. Boyle are among the many writers who have shared their wisdom and humor with TBR's readers.
Younger readers will find much to interest them as well. The discovery of a new book can pave the way to a literate future for children and young adults, and TBR always features reviews of books to please and nurture the youthful imagination.
The Bloomsbury Review: more than 34 years of celebrating and serving literature. A book magazine for the discriminating reader, young or old, who knows how sublime time can be when it's shared with just the right book.
BTC visited TBR's offices and took a few pictures to give you a sense of a new meaning of "great things come in small packages".
The TBR Buddha
Marilyn Auer, publisher, and David Perkins, a long time reviewer for TBR