You Can Pre-Order This Book Through Tattered Cover And Help The Cause!!!
Here's more about the book:
The world Cal and Frida have always known is gone, and they've left the crumbling city of Los Angeles far behind them. They now live in a shack in the wilderness, working side-by-side to make their days tolerable in the face of hardship and isolation. Mourning a past they can't reclaim, they seek solace in each other. But the tentative existence they've built for themselves is thrown into doubt when Frida finds out she's pregnant.
Terrified of the unknown and unsure of their ability to raise a child alone, Cal and Frida set out for the nearest settlement, a guarded and paranoid community with dark secrets. These people can offer them security, but Cal and Frida soon realize this community poses dangers of its own. In this unfamiliar world, where everything and everyone can be perceived as a threat, the couple must quickly decide whom to trust.
A gripping and provocative debut novel by a stunning new talent,
California
imagines a frighteningly realistic near future, in which clashes between mankind's dark nature and deep-seated resilience force us to question how far we will go to protect the ones we love.
A
n Update, Colbert Aims to Put California on Times List
(via Shelf Awareness)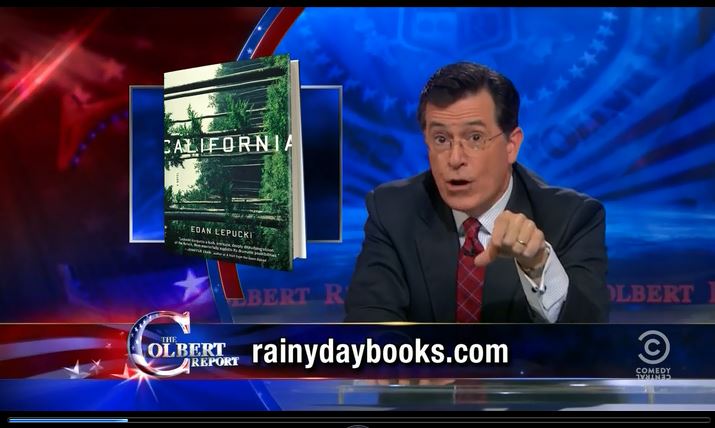 Last night, Stephen Colbert opened his show with
an update on what he called "my ongoing war with Amazon.
" Colbert said that following his "preorder" thatColbert Nation fans preorder the forthcoming novel
California
by Edan Lepucki on
Powells.com
, "You heroes have bought over 6,400 copies ofCalifornia. In fact, you have made
California
the No. 1 book on Powell's for a week."
Then he called on viewers to "really show Amazon" by putting
California
on the New York Times bestseller list. He recommended they preorder the first novel through
Colbertnation.com
"or preorder it from other places like
Parnassus Books
,
Politics & Prose
,
Rainy Day Books
,
(and we add, Tattered Cover).
Or go to your local bookstore, walk up to the counter, and just click on the clerk."
In recounting the battle, Colbert said, "Because of Amazon's scorched earth tactics, more people are getting screwed than in 50 Shades of Grey." He also called Jeff Bezos "Lex Loser" as a photo of the very bald Amazon CEO flashed behind him.