In this brilliant, breathtaking book by Pulitzer Prize winner Katherine Boo, a bewildering age of global change and inequality is made human through the dramatic story of families striving toward a better life in Annawadi, a makeshift settlement in the shadow of luxury hotels near the Mumbai airport. As India starts to prosper, the residents of Annawadi are electric with hope. Abdul, an enterprising teenager, sees "a fortune beyond counting" in the recyclable garbage that richer people throw away.
Meanwhile Asha, a woman of formidable ambition, has identified a shadier route to the middle class. With a little luck, her beautiful daughter, Annawadi's "most-everything girl," might become its first female college graduate. And even the poorest children, like the young thief Kalu, feel themselves inching closer to their dreams. But then Abdul is falsely accused in a shocking tragedy; terror and global recession rock the city; and suppressed tensions over religion, caste, sex, power, and economic envy turn brutal. With intelligence, humor, and deep insight into what connects people to one another in an era of tumultuous change,
Behind the Beautiful Forevers
, based on years of uncompromising reporting, carries the reader headlong into one of the twenty-first century's hidden worlds—and into the hearts of families impossible to forget.
Haunted by the freak accident that killed their father when they were children, Jim and Bob Burgess escaped from their Maine hometown of Shirley Falls for New York City as soon as they possibly could. Jim, a sleek, successful corporate lawyer, has belittled his bighearted brother their whole lives, and Bob, a Legal Aid attorney who idolizes Jim, has always taken it in stride. But their long-standing dynamic is upended when their sister, Susan—the Burgess sibling who stayed behind—urgently calls them home. Her lonely teenage son, Zach, has gotten himself into a world of trouble, and Susan desperately needs their help. And so the Burgess brothers return to the landscape of their childhood, where the long-buried tensions that have shaped and shadowed their relationship begin to surface in unexpected ways that will change them forever.
With a rare combination of brilliant storytelling, exquisite prose, and remarkable insight into character, Elizabeth Strout has brought to life two deeply human protagonists whose struggles and triumphs will resonate with readers long after they turn the final page. Tender, tough-minded, loving, and deeply illuminating about the ties that bind us to family and home,
The Burgess Boys
is Elizabeth Strout's newest and perhaps most astonishing work of literary art.
There's more than one kind of monster.
When Chase Daniels first sees the little girl in umbrella socks tearing open the Rottweiler, he's not too concerned. As a longtime meth addict, he's no stranger to horrifying, drug-fueled hallucinations.
But as he and his fellow junkies soon discover, the little girl is no illusion. The end of the world really has arrived.
The funny thing is, Chase's life was over long before the apocalypse got here, his existence already reduced to a stinking basement apartment and a filthy mattress and an endless grind of buying and selling and using. He's lied and cheated and stolen and broken his parents' hearts a thousand times. And he threw away his only shot at sobriety a long time ago, when he chose the embrace of the drug over the woman he still loves.
And if your life's already shattered beyond any normal hopes of redemption…well, maybe the end of the world is an opportunity. Maybe it's a last chance for Chase to hit restart and become the man he once dreamed of being. Soon he's fighting to reconnect with his lost love and dreaming of becoming her hero among civilization's ruins.
But is salvation just another pipe dream?
Propelled by a blistering first-person voice and featuring a powerfully compelling antihero,
Fiend
is at once a riveting portrait of addiction, a pitch-black love story, and a meditation on hope, redemption, and delusion—not to mention one hell of a zombie novel.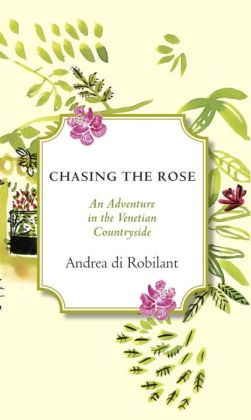 From the author of the best-selling
A Venetian Affair
, here is the charming chronicle of his search for the identity of a mysterious old rose. Andrea di Robilant's tale takes us back to the time of Josephine Bonaparte, as well as into some of the most delightful rose gardens in Italy today, brought to colorful life on the page in the watercolors of artist Nina Fuga.
In his 2008 biography of the Venetian lady Lucia Mocenigo (his great-great-great-great- grandmother), di Robilant described a pink rose that grows wild on the family's former country estate, mentioning its light peach-and-raspberry scent. This passing detail led to an invitation for an audience with a local rose doyenne, Eleonora Garlant. She and other experts wondered if di Robilant's unnamed rose could possibly be one of the long-lost China varieties that nineteenth-century European growers had cultivated but which have since disappeared. On the hunt for the identity of his anonymous yet quietly distinctive rose, Di Robilant finds himself captivated by roseophiles through time––from Lucia and her friend Josephine Bonaparte to the gifted Eleonora, whose garden of nearly fifteen hundred varieties of old roses is one of the most significant in Europe––and by the roses themselves, each of which has a tale to tell.
What starts out as a lighthearted quest becomes a meaningful journey as di Robilant contemplates the enduring beauty of what is passed down to us in a rose, through both the generosity of nature and the cultivating hand of human beings, who for centuries have embraced and extended the life of this mysterious flower.
The acclaimed author of
Rules of the Wild
gives us a lively, poignant, brilliantly observed new collection of stories: explorations of the power of change—in relationships, geographies, and across cultures—to reveal unexpected aspects of ourselves.
Here is the most evocative and immediate work yet from a writer hailed by The New York Times as "a natural-born storyteller"—and adored by readers for her global sensibility, humor, and narrative flair. Taking us to Venice during film festival season, a sun-drenched Greek village at the height of summer holidays, and a classical dance community in southern India, these stories sparkle with insight, pitch-perfect dialogue, and surprising twists. A woman celebrates professional success by impulsively buying a Chanel dress she can barely afford. A teenage girl contends with her mother's death while trying to impress a first love. A couple gives in to the urge to wander as they approach midlife. In all of these remarkable stories, characters take risks, confront fears, and step outside their boundaries into new passions and destinies. Enlivened by Marciano's vivid and clear eye on love and betrayal, politics and travel, and the awakenings of childhood,
The Other Language
is a tour de force that illuminates both the joys and ironies of self-reinvention.
From Ed Catmull, co-founder (with Steve Jobs and John Lasseter) of Pixar Animation Studios, comes an incisive book about creativity in business—sure to appeal to readers of Daniel Pink, Tom Peters, and Chip and Dan Heath.
Creativity, Inc.
is a book for managers who want to lead their employees to new heights, a manual for anyone who strives for originality, and the first-ever, all-access trip into the nerve center of Pixar Animation—into the meetings, postmortems, and "Braintrust" sessions where some of the most successful films in history are made. It is, at heart, a book about how to build a creative culture—but it is also, as Pixar co-founder and president Ed Catmull writes, "an expression of the ideas that I believe make the best in us possible."
For nearly twenty years, Pixar has dominated the world of animation, producing such beloved films as the Toy Story trilogy, Monsters, Inc., Finding Nemo, The Incredibles, Up, and WALL-E, which have gone on to set box-office records and garner thirty Academy Awards. The joyousness of the storytelling, the inventive plots, the emotional authenticity: In some ways, Pixar movies are an object lesson in what creativity really is. Here, in this book, Catmull reveals the ideals and techniques that have made Pixar so widely admired—and so profitable.
As a young man, Ed Catmull had a dream: to make the first computer-animated movie. He nurtured that dream as a Ph.D. student at the University of Utah, where many computer science pioneers got their start, and then forged a partnership with George Lucas that led, indirectly, to his founding Pixar with Steve Jobs and John Lasseter in 1986. Nine years later, Toy Story was released, changing animation forever. The essential ingredient in that movie's success—and in the thirteen movies that followed—was the unique environment that Catmull and his colleagues built at Pixar, based on philosophies that protect the creative process and defy convention, such as:
• Give a good idea to a mediocre team, and they will screw it up. But give a mediocre idea to a great team, and they will either fix it or come up with something better.
• If you don't strive to uncover what is unseen and understand its nature, you will be ill prepared to lead.
• It's not the manager's job to prevent risks. It's the manager's job to make it safe for others to take them.
• The cost of preventing errors is often far greater than the cost of fixing them.
• A company's communication structure should not mirror its organizational structure. Everybody should be able to talk to anybody.
• Do not assume that general agreement will lead to change—it takes substantial energy to move a group, even when all are on board.